Gilbert & Sullivan Annual Thanksgiving Service at St John's – August 6, 2023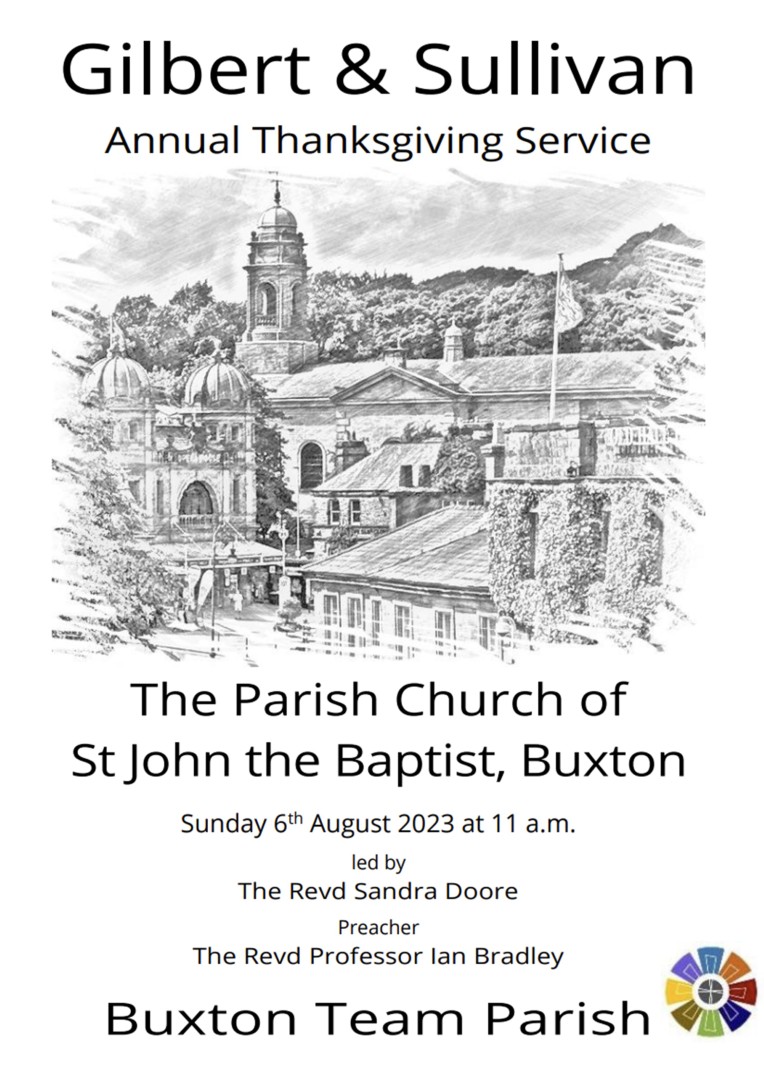 A congregation of over 200 packed into St John's for the Annual Thanksgiving Service held at the midpoint of the 29th International Gilbert and Sullivan Festival in Buxton Opera House. The service was led by Revd Sandra Doore, with prayers by Canon Stephen Shipley. A stirring sermon by visiting preacher, Revd Professor Ian Bradley, a frequent writer, broadcaster and lecturer on G&S and a minister of the Church of Scotland was much appreciated. The Lesson was read by Festival Director Neil Smith. Music, as so often at St John's, was centre stage. Andy Parker, a member of the St John's Choir, was soloist in 'The Lost Chord' with the entire congregation joining for a rousing last verse. The St John's Choir was augmented by sixteen members of International Savoynet Performing Group who had been using St John's as a rehearsal venue for their production of Ruddigore on 10th August. The final hymn, 'Onward, Christian Soldiers' was sung with appropriate spirit. Andrew Cummings, our superb organist, played us out with a medley of Sullivan tunes, much enjoyeded by both our regular congregation and the visiting G&Sers. It was a joyful and uplifting occasion.
Summer Festival services at St John's

The Annual Thanksgiving Service for the 29th International Gilbert and Sullivan Festival ended a summer of Festival services at St John's. A Festival Mass was held on each of the three Sundays during the Buxton International Festival in July. At the first, Buxton Madrigal Singers, the St John's Choir specially augmented for the occasion, led the congregation with Haydn's Little Organ Mass. The following week, the busiest of the Festival, Buxton Musical Society sang Mozart's 'Coronation' Mass and for the third Mass, the Buxton Madrigal Singers returned to sing Palestina's Missa Brevis. All were conducted by the St John's Choral Director, Michal Williams, MBE. There were large congregations at each of the services. St John's is the principal music venue for Buxton International Festival, hosting concert after concert. Longer concerts were held in the afternoons, and the St John's Do It Group provided Afternoon Teas during the intervals, raising over £2,000. All proceeds will go towards the work of the Parish and the upkeep of the magnificent Grade II* listed building that is St John's Church. Things now return to normal with a Sung Eucharist every Sunday at 11 a.m. to which all, including visitors to Buxton, are most welcome.