St John's Church Choir
Music has always been a significant part of the worship at St John's Church and happily that continues to be the case. The present choir numbers a dozen or more regular singers who provide a choral setting of the Eucharist Service every Sunday morning as well as special services on Ash Wednesday, Easter, Advent Sunday, the Sunday before Christmas, Christmas Eve, Christmas Day and Epiphany Sunday.
The present Choirmaster and Organist is Michael Williams MBE who took over from Fred Parnell when he retired in 1985. Michael set about expanding the choir's repertoire and introduced female choristers and now the choir has about 20 different Eucharist settings which are sung regularly.
St John's Church is lucky to have a very fine acoustic and a four manual William Hill organ dating from 1897 which makes it very popular as a venue for concerts throughout the year. During the bicentenary year in 2012 the choir recorded a CD of Church music with Andrew Cummings FRCO playing the organ and solo contributions from several choir members. Copies are available for purchase from the church at £10.00.
Watch "O Valiant Hearts" here performed by St. John's Choir.
Watch a video from a previous Advent Carol Service here.
The William Hill Organ
The four manual William Hill organ was installed in St John's Church in 1897 and was then the finest in Derbyshire. Referred to since as a magnificent piece of exceptional artistry, it was one of William Hill's prize creations and one of the first organs to have an electric action – powered by accumulators. An unfortunate rebuild in 1921 substituted pneumatic action and seriously impaired the organ's effectiveness, but in 1974 electric action was reinstated and the pipework restored as far as possible to the original specification. In 2003 Henry Groves & Son installed a modern electrical system with 30 channels so that the piston for each manual can be used both as divisional or generals. The organ has now regained its ranking as one of the finest in the diocese.
Organ Registration
Solo

Tuba

8'

Choir

Swabe Flute

4'

Couplers:

Harmonic Flute

8'

Lieblich gedacht

8'

Swell to Choir

Orchestral Oboe

8'

Cor Anglais

8'

Solo to Choir

Voil de Gamba

8'

Tremulant

Swell

Fifteenth

2'

Couplers:

Dulciana

8'

Choir Super Octave

Twelth

2 2/3'

Solo to swell

Choir Sub-octave

Principal

4'

Swell Super Octave

Choir unison off

Rohr Flute

8'

Swell Sub-octave

Salicional

8'

Tremulant

Pedal

Violincello

8'

Solo to Pedal

Voix Celeste

8'

Bourdon

16'

Swell to Pedal

Open Diapason

8'

Open Diapason

16'

Great to Pedal

Horn

8'

Trombone

16'

Choir to Pedal

Oboe

8'

Acoustic Bass

32'

Great and Pedal combination coupler

Bourdon

16'

Great

Mixture

3 ranks

Couplers:

Pistons:

6 generals

Harmonic Piccolo

2'

Solo to Great

3 to Solo

Harmonic Flute

4'

Swell to Great

6 to Swell + Swell to Pedal

Principal

4

Choir to Great

6 to Great + Swell to Great + Great to Pedal

Hohl Flute

8'

4 to Choir + Choir to Pedal

Small Open Diapason

8'

6 toe pistons to each of Great and Swell

Large Open Diapason

8'

Toe piston Great to Pedal

Double Open Diapason

16'

Toe piston to Trombone
Since 1978 the choir has formed the body of The Buxton Madrigal Singers, an augmented chamber choir who provide the choral forces annually for worship at Durham Cathedral at a weekend in early September. Since 1996 the same group has also broadcast a Festival Mass from St John's Church on BBC Radio Four's Sunday Worship as part of the annual Buxton Festival.
Buxton Madrigal Singers at Durham Cathedral. (James Lancelot, Durham Cathedral Organist far right and Michael Williams back row, far lef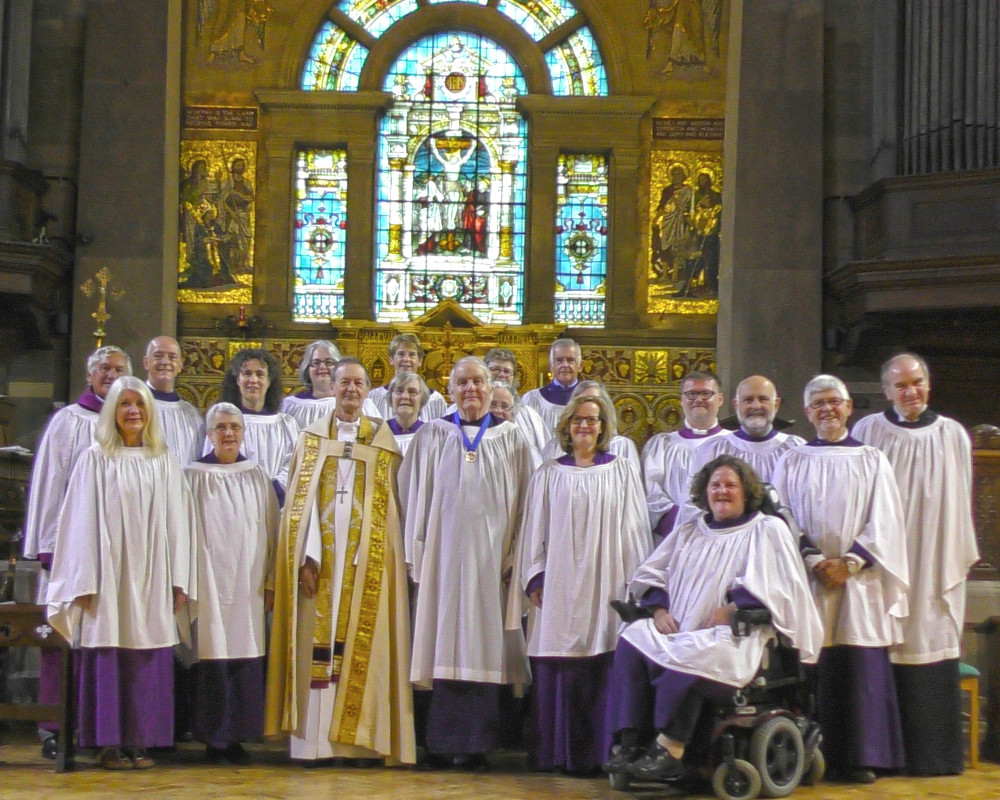 t.
St John's Choir on the occasion of the retirement of Bishop Alastair and his wife Caroline's last regular performance with the choir.